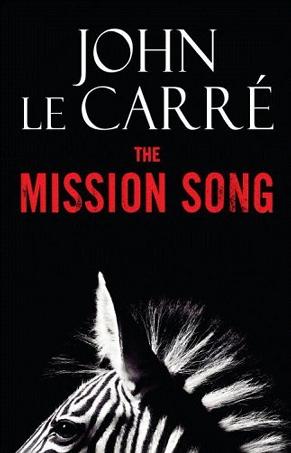 作者

: John le Carre
出版社:
Little, Brown
副标题:
A Novel
出版年:
2006-09-19
页数:
339
定价:
USD 26.99
装帧:
Hardcover
ISBN:
9780316016742
内容简介

· · · · · ·

在线阅读本书

Book Description

A naive young interpreter stumbles into the heart of an outrageous British plot in the astonishing new novel by the master of the literary thriller.

Abandoned by both his Irish father and Congolese mother, Bruno Salvador (alias Salvo) has long looked for someone to guide his life. Enter Mr. Anderson of British Intelligence. Bruno's African upbringin...

在线阅读本书

Book Description

A naive young interpreter stumbles into the heart of an outrageous British plot in the astonishing new novel by the master of the literary thriller.

Abandoned by both his Irish father and Congolese mother, Bruno Salvador (alias Salvo) has long looked for someone to guide his life. Enter Mr. Anderson of British Intelligence. Bruno's African upbringing and fluency in numerous African languages have made him a top interpreter in London, useful to businesses, hospitals, diplomats--and spies. Working for Anderson in a clandestine facility known as the "Chat Room," Salvo translates intercepted phone calls, bugged recordings, and snatched voice mail messages. When Anderson sends him to a mysterious island to interpret a secret conference between Central African warlords, Bruno thinks he is helping Britain bring peace to a bloody corner of the world. But then he begins to hear things not intended for his ears...

From Publishers Weekly

Bestseller le Carré (The Constant Gardener) brings a light touch to his 20th novel, the engrossing tale of an idealistic and na?ve British interpreter, Bruno "Salvo" Salvador. The 29-year-old Congo native's mixed parentage puts him in a tentative position in society, despite his being married to an attractive upper-class white Englishwoman, who's a celebrity journalist. Salvo's genius with languages has led to steady work from a variety of employers, including covert assignments from shadowy government entities. One such job enmeshes the interpreter in an ambitious scheme to finally bring stability to the much victimized Congo, and Salvo's personal stake in the outcome tests his professionalism and ethics. Amid the bursts of humor, le Carré convincingly conveys his empathy for the African nation and his cynicism at its would-be saviors, both home-grown patriots and global powers seeking to impose democracy on a failed state. Especially impressive is the character of Salvo, who's a far cry from the author's typical protagonist but is just as plausible. (Sept.)

From The Washington Post's Book World /washingtonpost.com

I don't know what accounts for the longevity of so many contemporary American and European writers, in terms of both lifespans and productivity. Not too long ago, short lives were common in the literary world. Today, the likes of Saul Bellow, pounding the keys almost to the moment of his death at 89, or Philip Roth, who arguably has done his best work after becoming eligible for Medicare, or Gunter Grass, making headlines with his new memoir at 78, are the rule.

I am reminded of a comment Thomas McGuane made a few years ago: With so many authors living so long, a writer nowadays can remain a young writer well into middle age. Sixty is the new 40.

Now comes The Mission Song, the 20th novel by Britain's John le Carré, who turns 75 this year and shows no signs of fatigue. His prose is as lovely and expressive as ever; his ear for dialogue remains wonderfully acute. Each of the characters in The Mission Song speaks with a distinctive voice, so that the usual interjections of "so-and-so said" seem almost superfluous.

An ear for speech is the genius of le Carré's protagonist, Bruno Salvador, an interpreter fluent in English, French, Swahili and several other African languages such as Kinyarwanda (the native tongue of Rwanda) and Shi (spoken in the eastern Congo).

Salvo, as he's known to his friends (some of whom later become his enemies), came to this linguistic mastery early in life. Born in the eastern Congo, the orphaned love-child of an Irish Catholic missionary priest and a Congolese woman whom he never knew, he attended a secret school where the sons of errant priests were sent for higher education. There, his mentor and erstwhile lover, Brother Michael, inspired him to train as a professional interpreter in the tribal languages he'd absorbed from childhood.

Eventually, he arrived in England and gained British citizenship. The mixed-race foreigner furthered his integration into British society by marrying a white celebrity journalist, Penelope. The marriage has gone sour when the novel opens, and Salvo enters into an adulterous affair with Hannah, a Congolese nurse at a London Hospital. The love story, deftly handled, serves as a subplot to an intricate thriller.

Salvo is a star in his unusual profession and vain about his abilities. He relishes the fact that he is "the one person in the room nobody can do without." Early in the story, which he narrates, he tells us that there is a world of difference between a mere translator, who can get by with mediocre language skills and a good dictionary, and a top interpreter. Hired by large corporations, law firms and hospitals, he also works part-time for the British Secret Service in a London basement known as "The Chat Room." It looks like a boiler-room operation, but those people in cubicles wearing headsets are interpreters eavesdropping on sensitive telephone conversations all over the world.

In establishing his main character's backstory, le Carré's pacing is neither overly leisured nor mechanically efficient. The tale gets moving when the Chat Room supervisor assigns Salvo to act as a simultaneous translator at a hush-hush meeting between Congolese warlords and a shadowy syndicate of Western financiers. As naive as he is vain, ardent to serve queen and country, Salvo accepts. From then on, with the hooked reader in tow, he plunges into familiar le Carré territory, a world of conspiracies, treachery and deceit.

For all that, The Mission Song has a comic, light-hearted touch. At the same time, it has the moral seriousness of le Carré's other novel of Africa, The Constant Gardener. As in that tale about the machinations of big pharmaceutical companies in Kenya, the villain here is a multinational corporation. Indeed, with the extinction of the Soviet Union, global capitalism seems to be fueling le Carré's literary energies. The chess matches between George Smiley, his Cold War spymaster, and Smiley's Soviet adversary, Karla, have been replaced by confused, asymmetrical warfare between somewhat hapless individuals such as Justin Quayle, the British diplomat in The Constant Gardener, and corporate giants that know no boundaries, moral or geographical.

A less worldly writer, or one with more left-wing axes to grind, would be tempted to portray these global titans as the sole authors of Africa's endless tragedy. Le Carré avoids that trap and presents African autocrats for the corrupt kleptomaniacs many of them are. Salvo and Hannah excepted, nobody in this book has clean hands, but some hands are dirtier than others.

Africa has become "hot" in recent years, and I don't mean the climate. It's a must-stop on the itineraries of Western celebrities from Bono to Madonna to Bill Clinton. Plagued by AIDS and malaria, ruled by vicious tyrants, wracked by civil wars and genocide, it is the irresistible magnet for aid agencies and missionaries, for whom it remains the "dark continent" in need of their salvation. It also remains what it's been since the colonial era: the place where foreign business interests (chiefly Western but increasingly Chinese as well) can make lots of money and extract natural resources.

The Syndicate in The Mission Song combines both the impulse to save and the urge to plunder. Salvo, his African conscience stirred through his affair with Hannah, suffers from a bit of savior complex himself. The Syndicate's purported mission -- to democratize his native country while making it a safer place to do business, thus bringing freedom and prosperity to all -- sings its siren song to him.

None of the action takes place in Africa. The setting is confined to London and a nameless island in the British channel. There, the Syndicate's representatives confer with two warlords and the son of a rich Congolese entrepreneur, Honoré Amour-Joyeuse, who goes by the nickname of Haj. The purpose of this exercise is to get the Africans to sign a contract pledging support to the Syndicate's scheme, its centerpiece being the installation in the eastern Congo of a government led by an aging, charismatic messiah called the Mwangaza. Granted exclusive rights to the region's vital minerals, the Syndicate will ensure that its profits are equitably distributed to the people.

If this sounds fishy to you, it should, and therein lies the novel's only major flaw. The key that winds the spring that drives the story is Salvo's naiveté. Le Carré skillfully draws an idealistic character less than half his age, but the reader may find, as I did, Salvo's gullibility difficult to accept. Almost from the moment he's given the mission, you sense that something is dreadfully wrong and wonder why Salvo doesn't, too.

Consequently, his awakening, when in the course of his interpretive work he hears things not intended for his ears, seems a bit contrived, his disillusionment a little too predictable. Things don't end well for Salvo either, and I was left with the feeling that he allowed himself to be bamboozled.

Nevertheless, the vividness of le Carré's characterizations -- Haj is marvelous and almost upstages Salvo -- and his adroit navigation of a plot with more twists and turns than the mountain segment of the Tour de France compensate for this shortcoming.

The Mission Song is a minor work compared with le Carré's big Cold War novels, but his skepticism, compassion and sense of moral outrage are as much in evidence here as in A Perfect Spy or The Honorable Schoolboy. To categorize him, as many do, as a "spy" novelist is to do him a disservice; he uses the world of cloak-and-dagger much as Conrad used the sea -- to explore the dark places in human nature.

                           Reviewed by Philip Caputo

From Booklist

When spies fought spies in the early le Carre novels, there were no real winners, but there was a sense that one system was better than the other. In later le Carre, however, individuals are pitted against institutions, and the institutions--each evil in its own way--always win. Le Carre's new heroes, unlike the melancholy George Smiley, are usually naive. This time the naif is an interpreter, Bruno "Salvo" Salvador, born in Eastern Congo of a white father and a black mother, both victims of African civil war. Salvo has remade himself as a British gentleman and serves his country by interpreting transcripts for the secret service. But now he's been promoted to the big leagues, live interpretation at an off-the-radar conference involving three African warlords and a much-revered Congo leader. Ostensibly, the British are helping put the revered leader in power, but, in fact, as Salvo soon learns, the real goal is very different: steal the mineral wealth of the region while establishing a puppet government--"democracy at the end of a gun barrel." Salvo and his lover, a Congolese nurse, are determined to thwart the planned coup, but they have little grasp of what they're up against. The opening half of this novel is a bit static--the dynamics of multilingual interpretation are difficult to convey in print--but the power of the human drama takes hold toward the end. As in The Constant Gardner (2000) and Absolute Friends (2003), le Carre's belief in the worth of individual human lives remains strong, even as his despair grows over the prospect of governments ever being a force for good.

                                 Bill Ott

From AudioFile

The unchallenged master of the contemporary spy novel turns his attention to the Dark Continent. Bruno "Salvo" Salvador, son of an Irish missionary and a Congolese woman, straddles both worlds as an interpreter of minority African languages, who is married to an aristocratic British journalist and passionately involved with a Congolese nurse. Salvo is hired to be the interpreter for a secret meeting between central African leaders and a mining syndicate. Unfortunately, he hears more than he should about the fate of the Congo--knowledge that could kill him. Award-winning British actor David Oyelowo has the perfect voice--smooth, rich, almost hypnotic in timbre and emotion--to tell this cloak-and-dagger tale. A minor le Carr?, but read by a master. M.T.B.

From Bookmarks Magazine

The Mission Song, John le Carré's 20th novel in a career spanning nearly half a century, most famously in The Spy Who Came in from the Cold (1964), receives mixed marks. Critics who enjoy the novel praise le Carré's intricate plotting, atmospheric settings, and his ear for dialogue—all the trademark riffs of the undisputed master of the Cold War thriller now setting his sights on new enemies. Those who detect a misfire here focus on the torturous complexity of the story and a confusing structure. Bottom line: Readers of le Carré will recall why they gravitated to his work in the first place; first-timers might have difficulty with the sometimes improbable twists and turns that impede a good spy story.

Book Dimension :

length: (cm)24.4                 width:(cm)15.9
豆瓣成员常用的标签(共1个)

· · · · · ·
> 更多短评 1 条
以下豆列推荐

· · · · · · ( 全部 )
谁读这本书?
二手市场
订阅关于The Mission Song的评论:
feed: rss 2.0